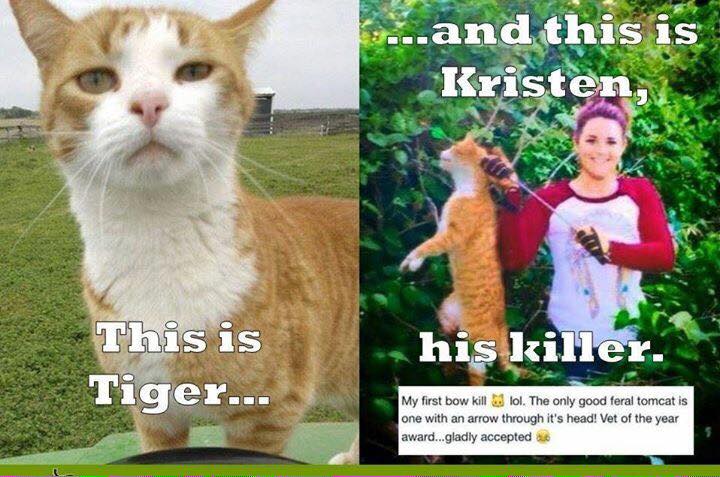 Reposted from here: https://www.facebook.com/events/739008929561916/
April of this year, a Texas licensed veterinarian posted a horrific photo on Facebook of herself, holding a cat dangling from an arrow, an orange and white tabby cat she shot through the head with a bow and arrow with the caption, "My first bow kill lol. The only good feral tomcat is one with an arrow through it's head. Vet of the year award…gladly accepted".

The photo went viral and days later Lindsey was fired from her job at the Washington Animal Clinic in Brenham.

The "feral tomcat" was a beloved, family pet named "Tiger".

The investigation into this animal cruelty case has been ongoing for over 2 months, and the National outcry for justice is deafening.

There has been no justice for Tiger, on June 24, 2015 the
Austin County District Attorney, Travis Koehn, finally presented the case to the Grand Jury, the Grand Jury's decision was "No Bill" which means no charges will be filed for Animal Cruelty against Kristen Lindsey. The Grand Jury's decision was based on insufficient evidence.

We may have lost the fight on the 24th but the battle is not over. The Press Release the DA submitted to the public raises many questions and we are here to ask for answers to those questions. Please read the press release.

There are over 375,000+ signatures on petitions pressuring the Texas Board of Veterinary Medical Examiners to revoke Lindsey's medical license.

Please join us in our fight for #JusticeForTiger, moving forward.
I found the Austin County district attorneys website and sent both assistant district attorneys emails urging to make things right, and please find a way to prosecute Kristen the lowlife. Their website is here (you can try emailing them too). If you hover over assistant district attorneys Brandy Robinson and Vincent J. Oberholtzer name you can see their email addresses.
Watch the brave protesters in this KBTX news video standing up for Tiger "the feral" cat, and animal rights in general. Watch the KBTX video here.
Kristen, a comment from my own mouth, "you are a huge fcking coward!"