Thailand is infamous for the cruel dog exporting to Vietnam for "dog meat trade". Not only are these domesticated animals eaten, they are tortured and put into VERY harsh living conditions, like being smashed together in barbed wire fenced crates stacked on top of each other, with no water, and not food 🙁
Please help take a stand against this cruel business, help by donating to Soi Dog Foundation, it was created to help animals, especially dogs caught into the illegal and torturous dog meat trade.
See their website here: http://www.soidog.org/en/dogmeat/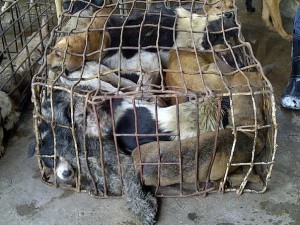 Also, please sign and share the petition to "Stop The Dog Meat Smuggling Trade!" Sign the petition here PLEASE.  We need to convince Thailand's prime minister and head of hte NCPO (National Council for Peace & Order) General Prayuth Chan-ocha to step up and realize this is hurting not only the animals caught in this mess, but also the minds ands happiness of people that suffer seeing and knowing these terrible things are happening.
https://www.youtube.com/watch?v=ngFElWvZQWo